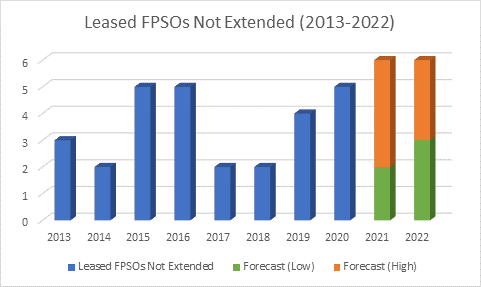 A recently published report stated that the number of leased FPSOs set to expire by 2022 is far higher than in the past, with potentially 30 units becoming available by 2022.
Based on EMA's floating production data covering the past 25 years, the current outlook is within normal parameters. From 2013-2020, 28 leased FPSOs completed contract (two to five FPSOs per year) with an average of 3.5 annually. The contracts were extended for 71% of these units, by up to 19 years (average 6.6 years). Of the eight units that were never extended, only three were upon completion of the firm lease period. The other five contracts ended prematurely due to accident, contract termination, or field production issues. The FPSOs that were released due to field production issues received compensation for the early contract termination.
There are currently 68 leased FPSOs in operation, of which 25 could potentially complete contract by 2022. Of these 25 units, almost two-thirds have already been extended by up to 13 years (average 6.4 years). Nine FPSOs are reaching the end of their firm contract period over the next two years. Based on our analysis, five units will come off contract in the low case (two in 2021 and three in 2022) and 12 units in the high case (six in each year). Typically, leased FPSOs are extended as long as the fields can produce above operating cost. The years that saw the largest number of leased FPSOs come off contract corresponded to the periods where oil prices crashed. Given expectations for oil prices above $60/bbl, we believe the actual result for 2021-2022 will be closer to the low case.
Currently there are 30 available FPSOs (20 had been leased and 10 were owned by the field operator). Of these units, about half will certainly be recycled. Eight FPSOs are good candidates for re-use, due to their specifications and remaining design life. The remaining units could see new employment, subject to price expectations and extent of upgrades required.
The future of offshore energy remains bright and leased FPSOs will continue to operate for many decades to come.