NEWS RELEASE – December 12, 2017
In its 2018-2022 Floating Production Systems Outlook Report, Energy Maritime Associates (EMA), analyzed the activity in 2017, recent industry trends and conducted a sentiment survey to develop a forecast for all Floating Production Systems: FPSO, FLNG, FSRU, TLP, Spar, Semi, and FSO.
2017 Highlights:
Orders Resume. After almost two years without an order, 10 FPSOs have been awarded since Q4 2016.
Return of the mega-projects. ENI awarded the $5.4 billion EPCIC Coral South FLNG contract to Samsung, TechnipFMC, and JGC. Statoil sanctioned the $2.6 billion Johan Castberg FPSO. Sembcorp will construct the hull and SBM will provide the internal turret.
Record number of FSRUs ordered. Driven by yard discounts and new entrants, 11 FSRUs were awarded, including five on speculation.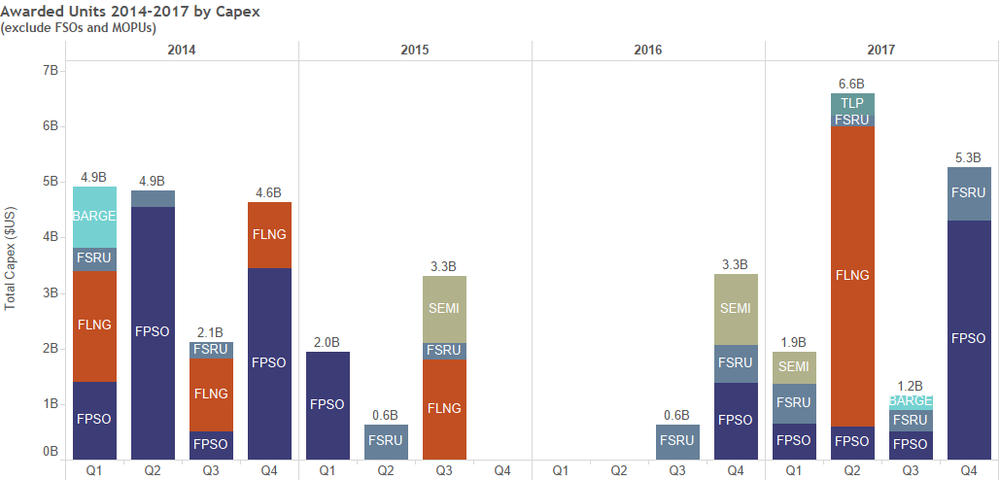 (c)EMA 2018
What does the future hold?
Up to 173 Orders. Between 80-173 Floating Production Systems are expected over the next five years with a mid-case forecast of $94 billion to be spent on 124 units. The outlook has been adjusted slightly from last year, with a handful more FPSOs expected in the mid and high-case scenarios. FPSOs remain the largest segment with over 40% of orders and 2/3rds of capital expenditure. Close to $50 billion is expected to be spent on FPS projects in Brazil and Africa, driven by large, deepwater FPSOs as well as a few mid-size FLNG developments.
There are now 10 speculative FSRUs on order, in addition to one available unit. Additional FSRUs will begin coming off contract and it remains to be seen how easily they can find new employment.
Rise of the Redeployment – Three idle units were awarded new contracts this year (OSX-1 FPSO, Aoka Mizu FPSO, Maersk Inspirer MOPU). We expect this trend to continue, with redeployed units, particularly FPSOs, accounting for up to 25% of future awards. 46 Floating Production Systems are currently available – 21 FPSOs, 9 Production Semis, 6 FSOs, 5 MOPUs, 2 Spars, 1 FLNG, 1 FSRU, and 1 Production Barge. This is down five from last year due to redeployments and scrapping of many FPSOs including Armada Intrepid, Opportunity, and Marlim Sul. The number of idle units is expected to remain high, with another 39 units likely to come available within the next two years.
According to EMA's Managing Director, David Boggs, "The floating production market experienced a gradual recovery in 2017, with total spending reaching levels last seen in 2014. After a two year pause, Petrobras resumed ordering production units and is expected to account for about a quarter of FPSO awards over at least the next five years. Confidence in deepwater developments returned as seen by sanction of projects including the Coral South FLNG, Johan Castberg FPSO, and SBM's Fast4Ward speculative FPSO hull. Three idle units received new contracts, providing cost-effective solutions for challenged projects. At today's oil price, there are an increasing number of viable offshore projects as a result of revised development plans, lower supply chain costs, and flexible commercial terms. The next few years provide a unique window of opportunity to sanction offshore developments and take advantage of record low drilling rates and adequate industry capacity."
For further information or to speak with the author please contact EMA:
Yun Xu
Energy Maritime Associates Pte Ltd
Tel: +65.9177.1368 (Singapore)
Tel: +1.202.800.8390 (USA)
fps@energymaritimeassociates.com
2019-2023 Outlook Report: Table Of Contents
A. Introduction to Floating Production Systems (FPS)
Brief History of the Offshore Industry
FPS Life Cycle
FPS Unit Types

Floating Production, Storage and Offloading Units (FPSOs)
Tension Leg Platforms (TLPs
Single Point Anchor Reserve (Spars)
Floating Liquefied National Gas Units (FLNGs)
Floating Storage and Regassification Units (FSRUs)
Production Semisubmersibles (Semis)
Floating Storage and Offloading Vessels (FSOs)
Mobile Offshore Production Units (MOPUs)
B. Current Market Status
What Happened in 2018?

Project Awards
Project Deliveries
Decommissioned Units

What Does the Market Look Like as of Dec 2018?

Trend in Order Backlog
Available Floating Production Systems
Projects in Planning Stage

Top Ten Lists

Top FPS Operators (Planning Pipeline)
Top FPS Owners
Top FPS Operators (Installed Units)
Top FLNG Owners
Top FPSO Owners
Top FPSO Owners by Water Depth (Installed Units)
Top FSO Owners
Top SPAR Owners
Top Production Semi Owners
Top FSRU Owners
Top TLP Owners
C. Underlying Market Drivers
Global Oil and Gas Demand Drivers
Long Term Energy Demand
Global Oil and Gas Supplies
Global Oil Price
U.S. Onshore Production and Investment
Offshore Drilling
D. Market Forecasts
Summary of 2019-2023 Forecast
Forecast Scenarios
FPSO Forecast
FLNG Forecast
FSRU Forecast
FSO Forecast
Production SEMI Forecast
SPAR Forecast
TLP Forecast
Forecast Appendix
E. Floating Production Systems Industry Survey
F. Contractor Focus
Leasing Contractors

Bluewater
Bumi Armada
BW Offshore (BWO)
MISC
MODEC
SBM
Teekay
Yinson

FSRU/FLNG Companies (Excelerate, Exmar, Golar, Hoegh)

Excelerate
Exmar
Golar LNG
Hoegh LNG

EPC Contractors

Chinese Yards

Cosco Shipping Heavy Industry (CSHI)
China Shipbuilding Industry Corporation (CSIC)
China State Shipbuilding Corporation (CSSC)
Wison Offshore & Marine

Korean Yards

Daewoo Shipbuilding & Marine Engineering (DSME)
Hyundai Heavy Industries (HHI)
Samsung Heavy Industries (SHI)

Southeast Asia Yards

Keppel
Malaysia Marine and Heavy Engineering (MMHE)
Sembcorp Marine (Jurong and Sembawang)
2019-2023 Outlook Report: List of Illustrations
A. Introduction to Floating Production Systems (FPS)
Fig 1. FPS Units > 1,500m by Year Installed
Fig 2. Installed FPS Units by Maximum Water Depth Over Time
Fig 3. Regional Distribution of Installed Units 1991-2000
Fig 4. Regional Distribution of Installed Units 2001-2010
Fig 5. Regional Distribution of Installed Units 2011-2017
Fig 6. FPS Awards in Relation to Oil Price
Fig 7. FPS Life Cycle Schematic
Fig 8. FPSO Schematic
Fig 9. Mooring Systems Comparison
Fig 10. Production Semi Schematic
Fig 11. TLP Schematic
Fig 12. SPAR Schematic
Fig 13. FLNG Schematic
Fig 14. FSRU Schematic
Fig 15 FSO Schematic
Fig 16. MOPU Schematic
B. Current Market Status
Fig 17. Units Awarded in 2017 and 2018 by FPS Type
Fig 18. Units Awarded in 2017 and 2018 by Capex
Fig 19. Awarded Units 2015-2018 by Quarter
Fig 20. Awarded Units 2015-2018 by Capex
Fig 21. Distribution of Units Awarded in 2018 by Type
Fig 22. Details for Units Awarded in 2018
Fig 23. Units Awarded in 2018 by Capital Cost
Fig 24. Units Awarded in 2018 by Yard
Fig 25. Units Awarded in 2018 by Operator Category
Fig 26. Units Awarded by Lease/Own
Fig 27. FPSO Awards by Region
Fig 28. FSO Awards by Region
Fig 29. FSRU Awards by Region
Fig 30. SEMI Awards by Region
Fig 31. FLNG Awards by Region
Fig 32. FPS Awards by Capex
Fig 33. Units Delivered in 2018 by Region and Unit Type
Fig 34. Details of Units Delivered in 2018
Fig 35. Details of FSRUs Delivered in 2018
Fig 36. Units Decommissioned in 2018
Fig 37. Total Installed Units by Type
Fig 38. Global Distribution of Installed Units by Type
Fig 39. Installed Units by FPS Type and Region
Fig 40. Table of Production and Storage Floaters by Type and Region
Fig 41. FPS Units On Order by Type and Region
Fig 42. FPS Units On Order/Under Repair by Name and Type
Fig 43. Distribution of Units On Order by Destination
Fig 44. Distribution of Units On Order by Yard
Fig 45. FPS Order Book by Unit Type
Fig 46. FPS Order Book 1997-2018
Fig 47. Available FPS Units by Year of Lay-Up and Type
Fig 48. Available FPS Units by Year of Lay-Up, Type and Status
Fig 49. Possible Available FPSOs 2019-2020
Fig 50. Possible Available Non-FPSO Units 2019-2020
Fig 51. Projects in Planning Process
Fig 52. Projects in Planning Process by Region
Fig 53. Projects in Planning Process by Region and Water Depth
Fig 54. Projects in Bidding/Final Design Stage by Region and Water Depth
Fig 55. Projects in Planning Stage by Region and Water Depth
Fig 56. Projects in Appraisal Stage by Region and Water Depth
Fig 57. Top Operators by Projects in Planning Process
Fig 58. Top FPS Unit Owners
Fig 59. Top Operators by Units Leased or Owned
Fig 60. Top FPSO Owners
Fig 61. Top FPSO Owners by Water Depth
Fig 62. Top FSO Owners
Fig 63. Top Spar Owners
Fig 64. Top Semi Owners
Fig 65. Top FLNG Owners
Fig 66. Top FSRU Owners
Fig 67. Top TLP Owners
C. Underlying Market Drivers
Fig 68. Growth in Primary Energy Demand by Region
Fig 69. Global Energy Demand Growth
Fig 70. Global Energy Demand by Sector
Fig 71. Average Annual Oil Demand Growth
Fig 72. Global Oil Demand by Sector 2017-2023
Fig 73. Change in Global Energy Demand
Fig 74. Liquids Demand
Fig 75. Sectoral Oil Demand Growth
Fig 76. LNG Imports by Region
Fig 77. Shares in Long-Distance Gas Trade 2017 vs 2040
Fig 78. Growth in Primary Energy Demand by Type
Fig 79. Typologies Under Development
Fig 80. Cost Breakdown for Fixed-Bottom & Floating Offshore Wind Projects
Fig 81. Capex Estimates for Fixed-Bottom & Floating Wind
Fig 82. Capacity-weighted Average Construction Cost by Installation Year
Fig 83. EIA vs OPEC Oil Production Forecasts
Fig 84. US Total Liquids Supply Outlook
Fig 85. US Oil Production
Fig 86. 2017 Major LNG Flows
Fig 87. Natural Gas Supply by Region
Fig 88. WTI and Brent Spot Price by Month
Fig 89. Demand/Supply Balance
Fig 90. World Liquid Fuels Production and Consumption Balance
Fig 91. Brent Futures Trading Rates Q-o-Q
Fig 92. Brent Futures Trading Rates Y-o-Y
Fig 93. Henry Hub Spot Gas Prices
Fig 94. Henry Hub Natural Gas Price and NYMEX Confidence Intervals
Fig 95. North American Rotary Count vs Oil Price
Fig 96. North American Rotary Count vs Oil Price
Fig 97. US Oil Long-term Production Outlook & Price
Fig 98. SE Asia Jackups Utilization and Day Rate
Fig 99. Drillship Utilization and Day Rate
Fig 100. Semisubmersibles Utilization and Day Rate
Fig 101. Floater Rates by Quarter
Fig 102. Offshore Upstream Investment by Water Depth and Scenario
Fig 103. Offshore Upstream Investment by Region and Scenario
Fig 104. Offshore Production Facilities in Selected Years by Scenario
Fig 105. Upstream Investment by Type
D. Market Forecasts
Fig 106. FPS Forecast by Unit Type
Fig 107. Capex Forecast by Region and FPS Type
Fig 108. Growth of FPS Inventory
Fig 109. Forecast by FPS Type and Capex
Fig 110. Historical Growth of FPSO Inventory
Fig 111. FPSO Awards 2003-2023
Fig 112. Forecast of FPSO Awards per Year (2019-2023)
Fig 113. FPSO Awards 2019-2023 with Petrobras' Proportion
Fig 114. FPSO Forecast by Hull Type
Fig 115. FPSO Processing by Lease Own
Fig 116. FPSO Awards by Lease Own
Fig 117. FPSO Forecast by Production Capacity
Fig 118. Leased FPSO Forecast by Production Capacity
Fig 119. FPSO Capex by Hull Type
Fig 120. FPSO Awards by Region
Fig 121. FPSO Capex by Production Ranges and Hull Type
Fig 122. FPSO Orders by Production Ranges and Hull Type
Fig 123. FLNG Orders and Deliveries
Fig 124. FLNG Orders by Unit Size
Fig 125. FLNG Forecast and Capex by Unit Size
Fig 126. Historical Growth of FSRU Inventory
Fig 127. Historical FSRU Orders
Fig 128. FSRU Awards by Lease/Own
Fig 129. FSRU Forecast by Unit Size
Fig 130. FSRU Forecast and Total Capex by Unit Size
Fig 131. Historical FSO Inventory
Fig 132. Historical FSO Orders
Fig 133. FSO Forecast by Unit Size
Fig 134. FSO Forecast and Capex by Unit Size
Fig 135. Historical Inventory of Semis
Fig 136. Historical Semi Orders
Fig 137. Semi Forecast by Unit Size
Fig 138. Semi Forecast and Capex by Unit Size
Fig 139. Historical Inventory of Spars
Fig 140. Historical Spar Orders
Fig 141. Spar Forecast by Unit Size
Fig 142. Spar Forecast and Capex by Unit Size
Fig 143. Historical TLP Inventory
Fig 144. Historical TLP Orders
Fig 145. TLP Forecast by Unit Size
Fig 146. TLP Forecast and Capex by Unit Size
Fig 147. Likely Awards in 2019
E. Floating Production Industry Survey
Fig 148. Confidence in Business Outlook
Fig 149. Expected Length of Downturn
Fig 150. Impact of Downturn
Fig 151. Cost Savings during the Downturn
Fig 152. Activity Levels
Fig 153. Largest Obstacle for Awards
Fig 154. Capacity Constraints
Fig 155. Most Attractive Regions
Fig 156. FPS Type with the Highest Growth Opportunities
Fig 157. Technologies with the Largest Impact
Fig 158. Outlook for Leased, Newbuilt, and Redeployed Units
Fig 159. Contractors Participation in Upstream Field Development
Fig 160. Sustainability of Offshore Oil and Gas Development
Fig 161. Survey Profile -Business
Fig 162. Survey Profile - Position
F. Contractor Focus
Fig 163. Top Leasing Contractors and Their Fleets
Fig 164. Top Leasing Contractors and Their Fleets by Region
Fig 165. Bluewater- Contracts by Field Operator
Fig 166. Bluewater- Asset Distribution by Region
Fig 167. Bluewater- Fleet Status
Fig 168. Bumi Armada- Contracts by Field Operator
Fig 169. Bumi Armada- Asset Distribution by Region
Fig 170. Bumi Armada- Fleet Status
Fig 171. BWO- Contracts by Field Operator
Fig 172. BWO- Asset Distribution by Region
Fig 173. BWO- Fleet Status
Fig 174. MISC- Contracts by Field Operator
Fig 175. MISC- Asset Distribution by Region
Fig 176. MISC- Fleet Status
Fig 177. Modec- Contracts by Operator
Fig 178. Modec- Asset Distribution by Region
Fig 179. Modec- Fleet Status
Fig 180. SBM- Contracts by Field Operator
Fig 181. SBM- Asset Distribution by Region
Fig 182. SBM- Fleet Status
Fig 183. Teekay- Contracts by Field Operator
Fig 184. Teekay- Asset Distribution by Region
Fig 185. Teekay- Fleet Status
Fig 186. Yinson- Contracts by Field Operator
Fig 187. Yinson- Asset Distribution by Region
Fig 188. Yinson- Fleet Status
Fig 189. Excelerate- Contracts by Field Operator
Fig 190. Excelerate- Asset Distribution by Region
Fig 191. Excelerate- Fleet Status
Fig 192. Exmar- Contracts by Field Operator
Fig 193. Exmar- Asset Distribution by Region
Fig 194. Exmar- Fleet Status
Fig 195. Golar- Contracts by Operator
Fig 196. Golar- Asset Distribution by Region
Fig 197. Golar- Fleet Status
Fig 198. Hoegh- Contracts by Operator
Fig 199. Hoegh- Asset Distribution by Region
Fig 200. Hoegh- Fleet Status
Fig 201. EPC Contractor Orderbook by Type
Fig 202. SEA Yards - Client Distribution
Fig 203. Korean Yards - Client Distribution
Fig 204. Chinese Yards - Client Distribution
Fig 205. SEA Yards - Order Destination
Fig 206. Korean Yards - Order Destination
Fig 207. Chinese Yards - Order Destination
Fig 208. COSCO - Orders by Client
Fig 209. COSCO - Order Destination
Fig 210. COSCO - Order Backlog
Fig 211. CSIC - Orders by Client
Fig 212. CSIC- Order Destination
Fig 213. CSIC - Order Backlog
Fig 214. CSSC - Orders by Client
Fig 215. CSSC - Order Destination
Fig 216. CSSC - Order Backlog
Fig 217. Wison - Orders by Client
Fig 218. Wison - Order Destination
Fig 219. Wison - Order Backlog
Fig 220. Daewoo - Orders by Client
Fig 221. Daewoo - Order Destination
Fig 222. Daewoo - Order Backlog
Fig 223. Hyundai - Orders by Client
Fig 224. Hyundai - Order Destination
Fig 225. Hyundai - Order Backlog
Fig 226. Samsung - Orders by Client
Fig 227. Samsung - Order Destination
Fig 228. Samsung - Order Backlog
Fig 229. Keppel - Orders by Client
Fig 230. Keppel - Order Destination
Fig 231. Keppel - Order Backlog
Fig 232. MMHE - Orders by Client
Fig 233. MMHE - Order Destination
Fig 234. MMHE - Order Backlog
Fig 235. Sembcorp - Orders by Client
Fig 236. Sembcorp - Order Destination
Fig 237. Sembcorp - Order Backlog