NEWS RELEASE – April 30, 2018
In its Q2 2018 Floating Production Systems Report, Energy Maritime Associates (EMA) reviewed the market for Floating Production Systems, including FPSOs, FLNGs, FSRUs, TLPs, Spars, Semis, FSOs, and MOPUs.
Recent Highlights:
Orders Continue. After almost two years without an order, 13 FPSOs have been awarded since Q4 2016. Three FPSOs have already been awarded so far in 2018 with another 10 possible orders by year end, bringing the annual total back to levels not seen since 2014.
Korea's Loss is Sembcorp's Gain. After encountering significant issues with legacy production projects, the big three Korean yards have only been awarded one non-LNG project since 2016. Daewoo and Hyundai seem focused on standardized units, like FSRUs, while Samsung has been awarded ENI's Coral South FLNG and BP's Mad Dog 2 Semi. Sembcorp has capitalized on this opportunity and been awarded three contracts: a Production Semi for Shell's Vito field in the USA, an FPSO hull for Statoil's Johan Castberg field in Norway, and an FPSO for Energean's Karish development in Israel. These new units will be built in Sembcorp's mega-yard facility in Singapore.
Majors come to China for the first time. Shell's Penguins FPSO will be built in China. It is also likely that as BP's Tortue FPSO and the future FPSOs for ExxonMobil's Liza field will be built in China.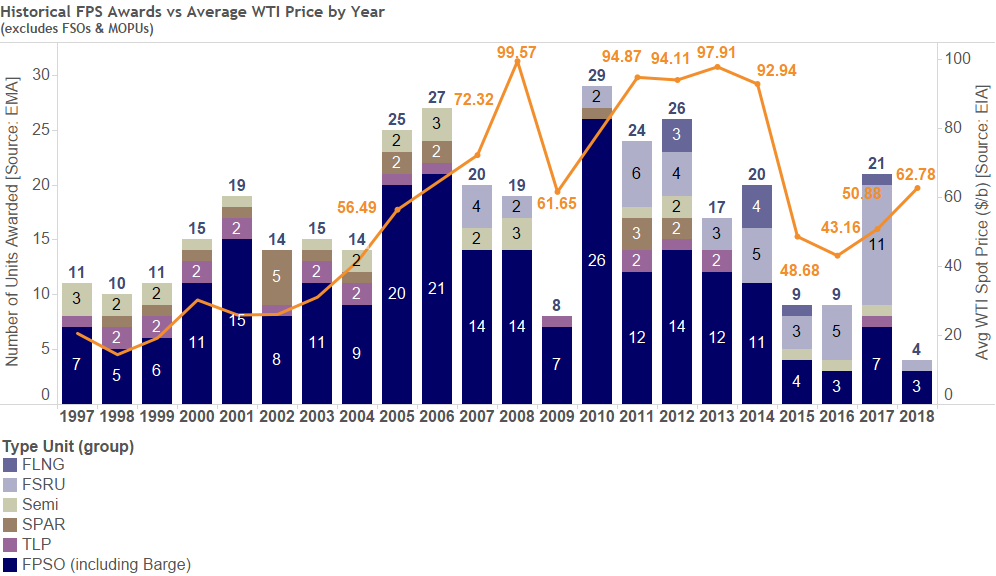 (c)EMA 2018
According to EMA's Managing Director, David Boggs, "The gradual recovery that began in 2017 has firmly taken hold with FPSO orders expected to reach pre-oil crash levels. In line with our 2018-2022 forecast, there should be at least 10 FPSO awards this year. Oil companies realize that costs in the supply chain are unlikely to reduce further and now is the time to act. After substantial reductions in capacity, industry consolidation, and certain sectors working for below variable cost, it is only a matter of time before margins begin to rise. Drilling rates for harsh environment rigs in the North Sea have moved upwards, but this is not yet the case for Jackups and Drillships in the rest of the world. Moreover, input costs for commodities, such as steel, are also increasing. However, there is still a long way to go before these increasing costs begin to threaten the economics of many deepwater projects. The US Energy Information Agency expects global production from deepwater to grow by 2.5 million b/d over the next 20 years, driven by new developments in areas including Brazil, Mexico, and Guyana."
For further information visit us at OTC (Booth 4471) or contact:
Energy Maritime Associates Pte Ltd
2019 June FPS Quarterly Report: Table of Contents
I. Current and Planned Floating Production Systems
Recent orders
Recent deliveries
What's now being built
Trend in order backlog
Composition of Order Backlog
Current fabrication and conversion activity
Floater projects planned or under study
Floating production database
II. Recent Developments
Floater Prospects in the Appraisal Stage
NEW Colorau (Angola)
NEW Cholula (Mexico)
Ras el Besh Sfax Offshore Permit (Tunisia)
Floater Prospects in the Planning Stage
NEW HI (Nigeria)
Tortue FLNG #2-4 (Mauritania)
Yakaar / Teranga (Senegal)
Zabazaba / Etan (Nigeria)
Bonaparte (Petrel-Tern-Frigate) (Australia)
Dorado / Roc (Australia)
Greater Sunrise (East Timor)
Jupiter EWT (Brazil)
Leon / Moccasin (U.S.)
Main Pass Energy Hub (U.S.)
Whale (U.S.)
Fyne (U.K.)
Grevling (Norway)
Wisting (Norway)
Rosmari / Marjoram (Malaysia)
PY-3 (India)
Floaters in the Bidding or Final Design Stage
Bonga Southwest/Aparo (Nigeria)
Etinde (Cameroon)
Barossa (Australia)
Jansz-Io (Australia)
New South Wales LNG (Australia)
NEW Barcarena LNG (Brazil)
Gato do Mato (Brazil)
Maromba I (Brazil)
Neon / Goia (ex-Echidna / Kangaroo) (Brazil)
Cambo Hub (U.K.)
Gdansk Bay LNG (Poland)
Sea Lion (Falklands)
Nam Du / U Minh (Vietnam)
Sepat (Malaysia)
Mina Al-Ahmadi (Kuwait)
Non-FPS Developments
New Orders
Buzios 5 FPSO (Brazil)
Mero 2 FPSO (Brazil)
Anchor SEMI (GC 807)
B-80 MOPU (India)
Cluster II FPSO (India)
MJ FPSO (India)
Oceania FSO (Malta)
Capella FSO (Dubai)
Aquarius Star & Crystal Star FSO (Malaysia)
EM Splendour FSO (Singapore)
Systems on Order
Kings Quay (Opti-Ex III) SEMI (GC 389 / 390 / 478)
Golar Viking FSRU (Croatia)
Liza Unity FPSO (Guyana)
Systems Recently Completed
BW Magna FSRU (Brazil)
Aoka Mizu FPSO (U.K.)
Summit LNG (ex-Excelerate) FSRU (Bangladesh)
Systems Recently Completed
Kaombo Sul FPSO (Angola)
La Noumbi FPSO (Congo)
P 76 FPSO (Brazil)
P 77 FPSO (Brazil)
Golar Freeze FSRU (Jamaica)
Tango FLNG (Ex-Caribbean FLNG) (Argentina)
Existing Systems
Ngujima Yin FPSO (Australia)
Adoon FPSO (Nigeria)
Gimboa FPSO (Angola)
Terra Nova FPSO (Canada)
EnQuest Producer FPSO (U.K.)
Petrojarl Banff FPSO (U.K.)
Petrojarl Foinaven FPSO (U.K.)
Voyageur Spirit FPSO (U.K.)
Tango FLNG (Ex-Caribbean FLNG) (Argentina)
Kikeh FPSO/SPAR & Caspian Sea FSO (Malaysia)
Pattani Spirit FSO (Thailand)
PFLNG 1 FLNG (Malaysia)
Available Systems
Front Puffin FPSO (Nigeria)
Dhirubhai 1 FPSO (India)
Golar Spirit FSRU (Brazil)
Petrojarl Cidade de Rio Das Ostras FPSO (Brazil)
Decommissioned Systems
Conkouati FPSO (Congo)
Ladinda FSO (Indonesia)
III. UNDERLYING MARKET DRIVERS
Global Oil and Gas Demand Drivers
World Economic Growth
Global Oil Price
Oil Futures
Natural Gas Price
U.S. Onshore Production and Investment
Offshore Drilling
IV. INDUSTRY ACTIVITY & ANALYSIS
Independent Listing for BW Energy
Upcoming Wave of Awards
Offshore Activity Increasing…Will Costs Also Rise?
Appendix I: Projects in Planning Pipeline
Africa
Australia
Brazil
Canada
Caribbean
Gulf of Mexico
Mediterranean
North Sea
Pacific
South America (excluding Brazil)
Southeast Asia
China
Southwest Asia and Middle East
Appendix II: On Order / Under Repair FPS Units
BARGE 2 units
FPSO 21 units
FLNG 4 units
FSRU 15 units
SEMI 6 units
FSO 6 units (3 Oil, 3 LNG)
MOPU 5 units
Under Repair
Appendix III: Installed and Available FPS Units
FPSO: 175 units
BARGE: 9 units
FLNG: 4 units
FSRU: 25 units
LNG REGAS: 5 units
SEMI: 39 units
SPAR: 21 units
TLP: 27 units
FSO: 103 units (99 Oil, 4 LNG)
MOPU: 18 units
Available - 48 Vessels
Appendix IV: Historical Installed FPS Units
2019 June FPS Quarterly Report: List of Illustrations
Fig 1. Total Installed Units by FPS Type
Fig 2. Total FPSOs by Status
Fig 3. Available Units by Type and Year Idle
Fig 4. Units Awarded by Quarter
Fig 5. Units Awarded by Capex
Fig 6. FPS Units Awarded Since Q1 2019
Fig 7. FPS Units Awarded - Details
Fig 8. FPS Awards in Relation to Oil Price
Fig 9. FPS Units Delivered in 2019
Fig 10. FPS Units On Order by Hull Type
Fig 11. FPS Units On Order by Contract Type (Lease/Own)
Fig 12. Map of FPS Units on Order
Fig 13. Order Backlog for FPS Units
Fig 14. Orderbook 2008-2019
Fig 15. Distribution of Units on Order by Yard
Fig 16. Projects in Planning Pipeline by Region
Fig 17. Projects in Planning Pipeline by Region-LNG&Non-LNG
Fig 18. Deepwater and Ultra Deepwater Projects by Region
Fig 19. Projects in Bidding and Final Design Stage by Region and Water Depth
Fig 20. Projects in Planning Stage by Region and Water Depth
Fig 21. Projects in Appraisal Stage by Region and Water Depth
Fig 22. Map of Installed FPS Units
Fig 23. Table of Production and Storage Floaters by Type and Region
Fig 24. FPSO by Status and Region
Fig 25. FSO by Status and Region
Fig 26. FSRU by Status and Region
Fig 27. FLNG by Status and Region
Fig 28. SEMI by Status and Region
Fig 29. SPAR/TLP by Status and Region
Fig 30. WTI and Brent Historical Price by Month
Fig 31. World Liquid Fuels Production & Consumption Balance
Fig 32. Demand and Supply Balance
Fig 33. Brent Futures - May 2019 vs Feb 2019
Fig 34. Brent Futures - May 2019 vs May 2018
Fig 35. Henry Hub Natural Gas Price
Fig 36. Historical Spot Gas Price
Fig 37. North American Land Rig Count
Fig 38. Dayrates and Utilization-Jackups
Fig 39. Dayrates and Utilization-Drillships
Fig 40. Dayrates and Utilization-Semisubmersibles
Fig 41. Likely Awards in Next 12 Months (FPSOs)
Fig 42. Likely Awards in Next 12 Months (Non-FPSOs)
Fig 43. FPS Awards in Relation to Oil Price
Fig 44. Comparison of Operating Cost, Capital Cost and Oil Price Indices
Fig 45. FPS Units On Order / Under Repair