NEWS RELEASE – April 30, 2018
In its Q2 2018 Floating Production Systems Report, Energy Maritime Associates (EMA) reviewed the market for Floating Production Systems, including FPSOs, FLNGs, FSRUs, TLPs, Spars, Semis, FSOs, and MOPUs.
Recent Highlights:
Orders Continue. After almost two years without an order, 13 FPSOs have been awarded since Q4 2016. Three FPSOs have already been awarded so far in 2018 with another 10 possible orders by year end, bringing the annual total back to levels not seen since 2014.
Korea's Loss is Sembcorp's Gain. After encountering significant issues with legacy production projects, the big three Korean yards have only been awarded one non-LNG project since 2016. Daewoo and Hyundai seem focused on standardized units, like FSRUs, while Samsung has been awarded ENI's Coral South FLNG and BP's Mad Dog 2 Semi. Sembcorp has capitalized on this opportunity and been awarded three contracts: a Production Semi for Shell's Vito field in the USA, an FPSO hull for Statoil's Johan Castberg field in Norway, and an FPSO for Energean's Karish development in Israel. These new units will be built in Sembcorp's mega-yard facility in Singapore.
Majors come to China for the first time. Shell's Penguins FPSO will be built in China. It is also likely that as BP's Tortue FPSO and the future FPSOs for ExxonMobil's Liza field will be built in China.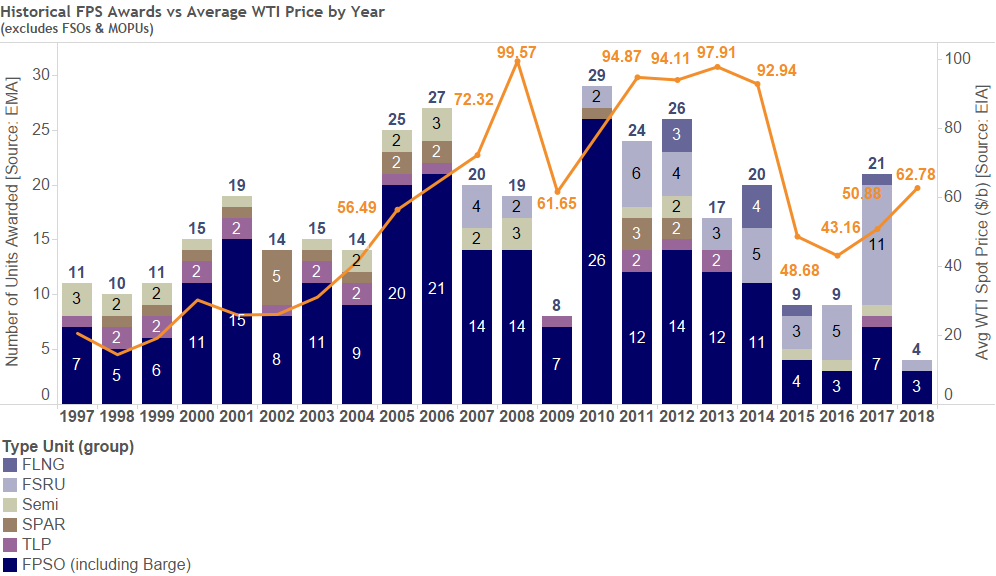 (c)EMA 2018
According to EMA's Managing Director, David Boggs, "The gradual recovery that began in 2017 has firmly taken hold with FPSO orders expected to reach pre-oil crash levels. In line with our 2018-2022 forecast, there should be at least 10 FPSO awards this year. Oil companies realize that costs in the supply chain are unlikely to reduce further and now is the time to act. After substantial reductions in capacity, industry consolidation, and certain sectors working for below variable cost, it is only a matter of time before margins begin to rise. Drilling rates for harsh environment rigs in the North Sea have moved upwards, but this is not yet the case for Jackups and Drillships in the rest of the world. Moreover, input costs for commodities, such as steel, are also increasing. However, there is still a long way to go before these increasing costs begin to threaten the economics of many deepwater projects. The US Energy Information Agency expects global production from deepwater to grow by 2.5 million b/d over the next 20 years, driven by new developments in areas including Brazil, Mexico, and Guyana."
For further information visit us at OTC (Booth 4471) or contact:
Yun Xu
Energy Maritime Associates Pte Ltd
Tel: +65.9177.1368 (Singapore)
Tel: +1.202.800.8390 (USA)
fps@energymaritimeassociates.com
2019 March FPS Quarterly Report: Table of Contents
I. Current and Planned Floating Production Systems
Recent orders
Recent deliveries
What's now being built
Trend in order backlog
Composition of Order Backlog
Current fabrication and conversion activity
Floater projects planned or under study
Floating production database
II. Recent Developments
Floater Prospects in the Appraisal Stage   
NEW  Brulpadda (South Africa)
Tigris Hub (Tiber/Gila/Guadalupe/Gibson) (U.S.)
NEW  Frosk / Froskelaar (Norway)
Floater Prospects in the Planning Stage
Blk 31 SE – PAJ (Angola)
NEW  Lagos State LNG (Nigeria)
Nene Marine Phase 2B (Congo)
Browse (Calliance / Brecknock, Torosa) (Australia)
Carcara (Brazil)
Maromba I (Brazil)
Bay Du Nord (Canada)
Kwispaa LNG (formerly Sarita) (Canada)
Trion (Mexico)
Galapagos (formerly NW Hutton & Darwin) (U.K.)
NEW  Hejre (Denmark)
NEW  Liberator (U.K.)
NEW  Marigold / Sunflower (U.K.)
Rosebank (U.K.)
Gehem/Gendalo (Indonesia)
Kelidang Cluster (Brunei)
NEW  Al Shaheen FSO Replacement (2 units) (Qatar)
Floaters in the Bidding or Final Design Stage  
Bonga Southwest/Aparo (Nigeria)
Ogaden Basin LNG (Djibouti)
Paradise/Pecan (Ghana)
SNE – Lupalupa / Baobab (Senegal)
Carnarvon Basin (Australia)
Equus (Australia)
Scarborough (Australia)
Victoria LNG (Australia)
Gato do Mato (Brazil)
Marlim Revitalization 1 & 2 (Brazil)
NEW  DR LNG (Dominican Republic)
Anchor (U.S.)
NEW  Balder X (Jotun A upgrade) (Norway)
Cambo Hub (U.K.)
NEW  Wilhelmshaven LNG (Germany)
Acajutla LNG (El Salvador)
Apsara (Cambodia)
NEW  Arco Adjuna Replacement (Indonesia)
Lac Da Vang (Vietnam)
Limbayong (Malaysia)
Pasca (Papua New Guinea)
Rossukon (Thailand)
Hong Kong LNG (Hong Kong)
NEW  B-127 Cluster (India)
KG-D6 / MJ Field (India)
Non-FPS Developments  
New Orders 
Abigail-Joseph (ex-Allan) FPSO (Nigeria)
Dwiputra FSRU (Mozambique)
Feng Huang Zhou FSO (China)
Units Under Repair      
Cidade de Sao Mateus FPSO (Brazil)
Systems on Order 
Tema FSRU (Ghana)
Amoca FPSO (Mexico)
Kings Quay (Opti-Ex III) SEMI (GC 389 / 390 / 478)
Gimi FLNG (Mauritania)
Golar Viking FSRU (Croatia)
Liza Destiny FPSO (Guyana)
Idemitsu FSO (Vietnam)
Ingenium II (Ex-San Jacinto) BARGE (Cambodia)
Fast4Ward #2 (Speculative Hull) FPSO (TBD)
Gandria FLNG (TBD)
Systems Recently Completed
Kaombo Sul FPSO (Angola)
La Noumbi FPSO (Congo)
P 76 FPSO (Brazil)
P 77 FPSO (Brazil)
Golar Freeze FSRU (Jamaica)
Tango FLNG (Ex-Caribbean FLNG) (Argentina)
Existing Systems 
Abo FPSO (Nigeria)
BW Adolo FPSO (Gabon)
N'Kossa II LPG FSO (Congo)
Frade FPSO (Brazil)
Piranema Spirit FPSO (Brazil)
Polvo FPSO (Brazil)
PTSC Lam Son FPSO (Vietnam)
Golar Igloo FSRU (Kuwait)
Available Systems  
Morpeth TLP (EW 921)
Dhirubhai 1 FPSO
Firenze FPSO
Nganhurra FPSO
Decommissioned Systems  
Curlew (ex-Maersk Curlew) FPSO (U.K.)
Modec Venture 11 FPSO (TBD)
Marine Star FSO (Singapore)
Cancelled Projects  
III. UNDERLYING MARKET DRIVERS     
Global Oil and Gas Demand Drivers
World Economic Growth
Global Oil Price
Oil Futures
Natural Gas Price
U.S. Onshore Production and Investment
Offshore Drilling
IV. INDUSTRY ACTIVITY & ANALYSIS 
29 FPS Awards Possible in the Next 12 Months
Best FPSO Market in a decade?
Rising Redeployments
Appendix I: Projects in Planning Pipeline     
Africa
Australia
Brazil
Canada
Caribbean
Gulf of Mexico
Mediterranean
North Sea
Pacific
South America (excluding Brazil)
Southeast Asia
China
Southwest Asia and Middle East
Appendix II: On Order / Under Repair FPS Units
BARGE 2 units
FPSO 18 units
FLNG 4 units
FSRU 17 units
SEMI 5 units
FSO 6 units (3 Oil, 3 LNG)
MOPU 4 units
Under Repair
Appendix III: Installed and Available FPS Units 
FPSO: 175 units
BARGE: 9 units
FLNG: 4 units
FSRU: 23 units
LNG REGAS: 5 units
SEMI: 39 units
SPAR: 21 units
TLP: 27 units
FSO: 98 units (94 Oil, 4 LNG)
MOPU 18 units
Available units
Appendix IV: Historical Installed FPS Units  
2019 March FPS Quarterly Report: List of Illustrations
Fig 1. Total Installed Units by FPS Type
Fig 2. Total FPSOs by Status
Fig 3. Available Units by Type and Year Idle
Fig 4. Units Awarded by Quarter
Fig 5. Units Awarded by Capex
Fig 6. FPS Units Awarded Since Q4 2018
Fig 7. FPS Awards in Relation to Oil Price
Fig 8. FPS Units Delivered in 2019
Fig 9. FPS Units On Order by Hull Type
Fig 10. FPS Units On Order by Contract Type (Lease/Own)
Fig 11. Map of FPS Units on Order
Fig 12. Order Backlog for FPS Units
Fig 13. Orderbook 2008-2019
Fig 14. Distribution of Units on Order by Yard
Fig 15. Projects in Planning Pipeline by Region
Fig 16. Projects in Planning Pipeline by Region-LNG&Non-LNG
Fig 17. Deepwater and Ultra Deepwater Projects by Region
Fig 18. Projects in Bidding and Final Design Stage by Region and Water Depth
Fig 19. Projects in Planning Stage by Region and Water Depth
Fig 20. Projects in Appraisal Stage by Region and Water Depth
Fig 21. Map of Installed FPS Units
Fig 22. Table of Production and Storage Floaters by Type and Region
Fig 23. FPSO by Status and Region
Fig 24. FSO by Status and Region
Fig 25. FSRU by Status and Region
Fig 26. FLNG by Status and Region
Fig 27. SEMI by Status and Region
Fig 28. SPAR/TLP by Status and Region
Fig 29. WTI and Brent Historical Price by Month
Fig 30. World Liquid Fuels Production & Consumption Balance
Fig 31. Demand and Supply Balance
Fig 32. Brent Futures – Feb 2019 vs Nov 2018
Fig 33. Brent Futures – Feb 2019 vs Mar 2018
Fig 34. Henry Hub Natural Gas Price
Fig 35. Historical Spot Gas Price
Fig 36. North American Land Rig Count
Fig 37. North American Rig Count vs Oil Production
Fig 38. Dayrates and Utilization-Jackups
Fig 39. Dayrates and Utilization-Drillships
Fig 40. Dayrates and Utilization-Semisubmersibles
Fig 41. Likely Awards by March 2020 (FPSOs)
Fig 42. Likely Awards by March 2020 (Non-FPSOs)
Fig 43. Capacity Constraints
Fig 44. Top FPSO Leasing Contractors by Status
Fig 45. Idle FPSOs by Year Available
Fig 46. FPS Units On Order / Under Repair